WAS £425.00 NOW £299.99
The Quinny Buzz cleverly unfolds automatically into the most complete pushchair available. With the flexibility to carry a car seat and carrycot (sold seperately), and coming complete with a comfy seat, it's the ultimate combination of comfort for your child from birth to toddler, and ease of use that lets you live your life, your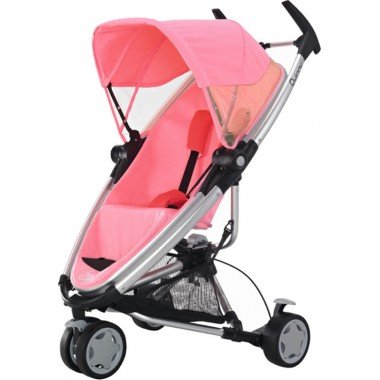 WAS £250.00 NOW £159.00
The all New Zapp Xtra- The world's most compact folding buggy offers has all the existing Zapp features with the added extra of a reclining seat.
WAS £197.00 NOW £150.00
The Quinny Senzz Carrycot is suitable from birth to 6 months. The Senzz carrycot is designed to please, it is ultra compact and lightweight.
WAS £160.00 NOW £124.95
The Quinny foldable carrycot is suitable for use from birth until approximately 6 months. The carrycot is easily connected to the chassis of the Quinny Moodd and Quinny Buzz pushchairs to create the perfect travel system. The carrycot can be easily folded flat for storage and includes a mattress, boot cover, and mosquito net.
The front and rear wheels of the Quinny Buzz 3 Stroller now use ball bearings, giving a much smoother ride – whilst an updated suspension makes for a more comfortable ride for baby. An easily adjustable push bar makes pushing the Quinny Buzz a breeze, and the easy-to- operate brake pedal gives an audible click
Subscribe to Newsletter
Subscribe to newsletter widget area