WAS £24.99 NOW £21.97
One-touch refill system keeps bubbles blowin' for a whole lotta mowin'! The all-new one-touch refill system features a bigger bubble dispenser for less fill-ups-and a one-press, no-mess refill. Just press it once and you're good to go for a yard full of bubble fun! Bubble solution included.
WAS £39.99 NOW £29.99
Animals are amazing-and so is this musical choo-choo Place any of the animals in the engine car to hear delightful songs that help baby learn about animals. Baby can sit and explore or crawl along with the moving train as it lights up, playing music and sounds. Each animal and car is full of rewarding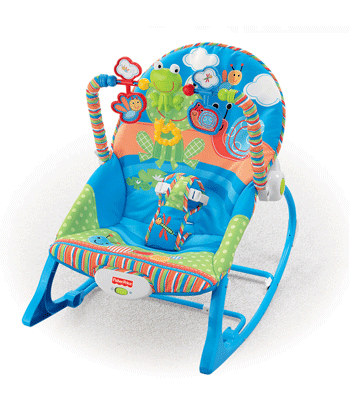 WAS £54.99 NOW £49.99
Lovely new design rocker is a perfect grow-with-baby product featuring an infant rocker with a fold-out kick stand that easily converts the rocker to a stationary seat for feeding or sleeping. The rocker can also be used as a toddler rocking seat – all the way up to 40lbs!
WAS £49.99 NOW £34.99
A comfy mat, playful friends, music, sounds, and plenty of stimulating fun as baby grows-this gym has it all! Baby can bat at the roller ball for delightful music, watch sweet butterflies spin overhead, and kick the raised end panel for toe-tickling textures.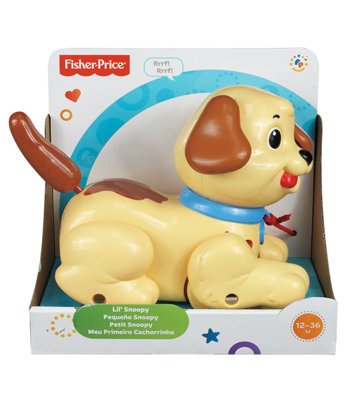 WAS £8.99 NOW £7.99
The perfect puppy pal for little walkers! Baby can take Lil' Snoopy for a "walk," with adorable ear-wiggling, tail-shaking, barking fun-no batteries required! Fun sounds and action reward baby for pulling Li' Snoopy along, encouraging baby to walk!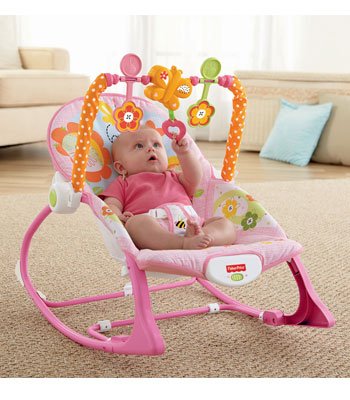 WAS £54.99 NOW £42.99
The Pink Bunny Infant to Toddler Rocker is a sweet bunny print rocker with three interactive toys on the snap in toy bar.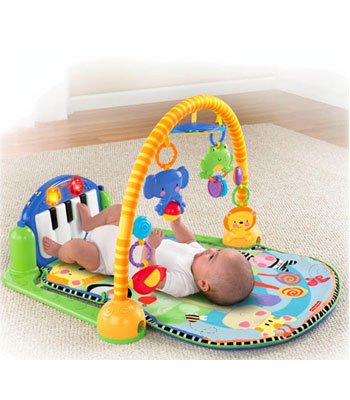 WAS £56.99 NOW £45.59
Baby kicks. Music plays. Lights sparkle. And that's just the beginning. Movable toys on the overhead gym encourage baby to bat and grasp. Move the arch down for tummy-time play, or let baby sit and entertain you with a piano concert!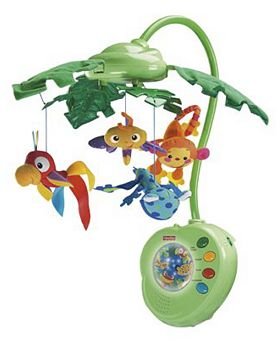 WAS £49.99 NOW £39.99
The Fisher-Price Rainforest Motion & Music Mobile brings the magic of the rainforest to the side of baby's crib. Leaves slowly move up & down while the three detachable rainforest characters spin as the mobile rotates around. Includes three classical music compositions or rainforest sounds.
WAS £49.99 NOW £44.49
The Luv U Zoo Playtime Bouncer has fun character friends for baby to sit with plus lots of great play in the toy bar. A large giraffe on the toy bar encourages the baby to play with these fun friends while the monkey and bear delight with rattles. Plus, when baby pulls on the leaf,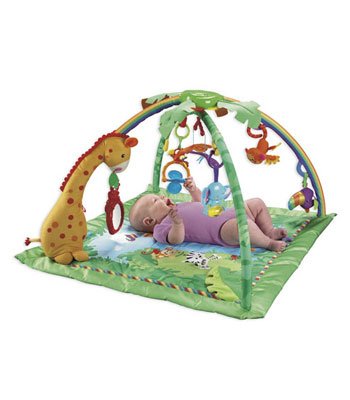 WAS £63.99 NOW £44.99
The magical world of the rainforest comes to life with music, lights, nature sounds, and lots of activities and textures to stimulate your growing baby. The comfy floor quilt has a soft silky border and colourful arches supported by a friendly giraffe. A variety of links let you attach toys up above or down below.
Subscribe to Newsletter
Subscribe to newsletter widget area