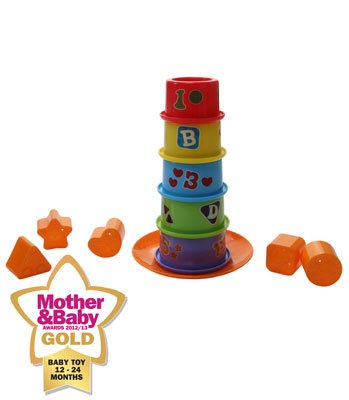 WAS £4.99 NOW £2.49
Toddlers will love these bright and colourful plastic stack n Sort Cups, offering endless hours of fun with 2 different play modes. Children can have fun stacking the cups up to make a tower or mix and match the shapes for great co-ordination fun.
WAS £29.99 NOW £14.99
Buzzing Brains Workbench is a great toy work bench that encourages imaginative play. 23 parts includes 4 tools, 2 gears, 4 wooden construction pieces, 1 vice, 6 nails, 6 nuts and 6 bolts.
WAS £24.99 NOW £12.49
The Kids Brass Band includes a drum, trumpet, tambourine, cymbals and maracas and all the instruments are the perfect size for small hands to hold.
WAS £39.99 NOW £24.99
Buzzing Brains Parking Garage is a three-level parking garage that will keep your child busy for hours. Its great for imaginative play and perfect for driving adventures. The set includes parking slots, working elevator, 3 ramps, service station with car wash, repair area, 2 fuel pumps, traffic light and 2 cars.
WAS £99.99 NOW £64.99
Buzzing Brains Dream House is made from durable, high quality laminated wood with a high gloss lamination finish. Set includes 11 pieces realistic, decorated and moveable furniture that allow your child to design their own house. Functional stairs and furniture is great for imaginative play.
WAS £24.99 NOW £21.99
Buzzing Brains Grow-with-Me Musical Walker is the ideal product for aiding your baby's first steps. The walker features an easy to grip handle at the correct height for youngsters, and 4 stable wheels. Coordination and sensory skills are developed through the variety of buttons and functions that your child can play with.
Subscribe to Newsletter
Subscribe to newsletter widget area